Feral Business Network presents: RADMIN -A festival of Administration

Feb 14-16 2019, Cube Microplex, Bristol UK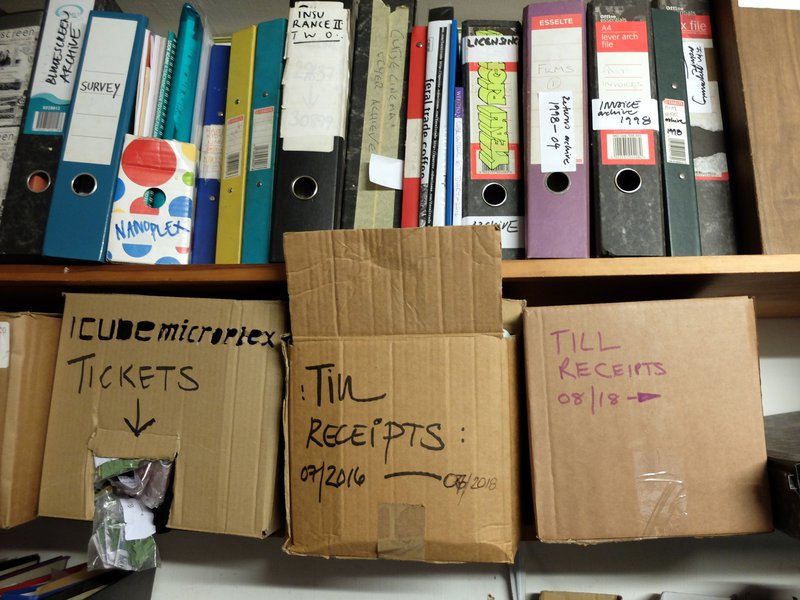 What can artists do for business?
At a time where the legitimacy of 'business as usual' has been called spectacularly into doubt, new thinking and practice around how we do business is urgently sought. Open to individuals and collectives, artists, producers, administrators and creative organisations, we will gather at RADMIN, Britain's first Festival of Administration, to erase, ghost-write and re-file, over three days of receptions, discussions, dinners, provocations and office parties.

RADMIN is a summit in which we will reconsider the 'dull' spaces of administration, managing, trading and maintenance, not as a set of largely hostile impediments which invade or co-opt arts practice but as sites for critical and creative enquiry, radical histories, experiments, politics, wild imaginaries and meaningful work.
Programme features: Gala Dinner , Convention, Office Party, Professional Development Bonanza! and 100 Ushers/Screening.

With: 3 Stages of Succession, The Ad Hoc Collective, Bristol Co-operative Gym, Centre for Plausible Economies, Common Wallet, Company Drinks, Cube Cinema, CUPS (Creative University Professional Services), Different Space, Drawing Exchange, Feral Trade, FoAM, The Incidental Unit, Institute for Experiments with Business, IRATIONAL.ORG, Legal Eagles, Polar Produce, Port O' Bristol, Plumbmaid, Richard Youngs, The School for Organizing, Trade Show, UWE Business School, The Viriconium Palace AND OTHERS.
Official photography on the Cube Blog

Thurs 14th 1800 – 2230
RADMIN Gala Dinner 'The shares; A meal'. Hosted by The Viriconium Palace
AT: Arts Mansion, Ashton Court, Bristol
A specially laid on meal with drinks, talks and toasts. Featuring a wild constellation of dinner speakers from administration, trade and maintenance.
Hosted by The Viriconium Palace, 'The Shares' is a curated combination of playful hosting forms, and designed tableware. The Viriconium Palace is an informal and occasional art project that works with visual art, system design and finance, and was established in Bristol in 2015.
Dinner Speakers: The Viriconium Palace, Cube Cinema Ltd, Port O'Bristol, Centre for Plausible Economies, IRATIONAL.ORG, CUPS (Creative University Professional Services), The School for Organizing, The Incidental Unit. MC: Polar Produce.

Fri 15th 0930 – 1700

RADMIN Convention
AT: Arts Mansion, Ashton Court, Bristol

Workshops, presentations and packed lunch.

The RADMIN Convention is an all-day series of workshops, taking an artist-led and speculative approach to rethink how we (as individuals and organisations) could do business.
Embracing Polarity (Different Space)
This workshop considers and explores the apparent polarity of 'art' and 'administration'. We will play with both conceptual and embodied ways of bringing these energies into relationship with one another.

Radical Organisational Portraiture
How do you create a radical portrait of organisational structure? Join us and share in the process of Radical Organisational Portraiture. This exploration will be led by Hughes, Kruglanski and Woollett who propose a triptych of Enterprise Imaging, Wild Yeast Economics and an Expansion of the Social in Portraiture.
CUPS (Creative University Professional Services)
In 1957, New Zealand educational administrator, C E Beeby, made an impassioned argument that administration was an art more than a science. In this workshop, Heidi Andrews, Linda Challis, Katherine Dunleavy, and Angela Piccini will work with the materialities and practices of research administration as art.
Incidental Unit Workshop on The Open Brief: New Professional Functions for the Incidental Person
The Incidental Unit is working with the linage of the Artist Placement Group, a radical collective dating from the 1960s that used the open brief (OB) to place artists in sectors across the UK. Case studies will indicate how the OB has operated. Work with us to relate it to contemporary administration, employment and art practice.
Vegetal organisations (Ingrid Vranken / FoAM)
An invitation for artists, thinkers and thinkerers to engage in a co-working practice of observation, care and being-with plants. What kinds of relating can we initiate, beyond either gardening or aesthetic objectification, and how can this inform human experience of work, time, productivity and co-creation?
Administrative Postures (Bristol Cooperative Gym)
Administrative tasks often involve sitting. This workshop will explore the idea of "good posture" with alternative resting poses and movements to counteract the effects of sitting.

Legal Eagles: Doing Things Differently
Legal Eagles present a series of creative 'legal hacks', which illustrate how legislation can help change how do things differently. During the workshop we will also co-devise a series of speculative legal hacks and slogans for human and non-human matters.
Songform as Time and Motion (Richard Youngs)
This workshop approaches songwriting as a workflow with a deadline. Creative efficiency techniques will be outlined, standard times allotted for the achievement of creative work outcomes, and improved creative work methods examined. Drudgery will never have been such fun.

Redrawing Economy (Keep it Complex)
A hands on session to figure out how your practice ticks economically, and to get a better picture of how you work, earn money, who supports you and what you are working towards. With Rosalie Schweiker who recently published a sharp hand drawn analysis of London's Art World Economies and depicts some of the myths, cruelty, solidarity, exploitation and support systems that keep the art worlds moving.

Intimacy Encryption (IRATIONAL.ORG)
A workshop in how to communicate securely over any media using nothing more than sharing some special time together. We are mostly taught that security and privacy are built on creating distance. Getting very close to people is often a better strategy, hence intimacy encryption, used very effectively by former fluffy groups such as Irish Republican Army and Palestine Liberation Organisation.
Dark Arts, Grey Areas and other Contingencies (FoAM)
In a world enthralled by market economics, sooner or later every artist is faced with the question of financing their work. Drawing on the dark arts, the domain where magicians and fortune-tellers commune with unknowable, faceless entities, we explore economic and cultural grey areas to reclaim tools of business administration as an artistic medium.
Fri 15th 2000 – 0000
RADMIN Office Party
AT: Cube Microplex, Bristol
Performances, tours and entertainments.
In a laid back and social style the 'Office Party' riffs and draws on the rich history of the Cube as a place where creative experiments in IT, HR, bar management, account-keeping, revenue and organisational form have always been core to the project, and sometimes more exciting than the public side. Expect Access All Areas departmental tours, DJs, performers, music plus a Nail Bar.
Cube Tours

File sharing, drinks tasting, money counting, mic testing, till checking and the venue's own Cube Cola lab. Explore the myriad, labyrinthine and micro-complexities of a cinema run by a volunteer work force with day jobs, no jobs and other occupations. Turn up at 8pm to be ushered in.
Nail Bar (Cube Cinema Ltd)
In homage to the sound of nails and fingertips tamping, we offer RADMIN special manicures for £5.
My apologies for the late reply (Ingrid Vranken / FoAM)

In the fairy tale of The Wild Swans, a girl stubbornly takes on the overwhelming and repetitive task of making 11 sweaters out of nettles in order to save her brothers. Her work takes up several years, but in the story itself only a couple of sentences describe this long period of determination and seclusion. Can we relate to her labour, beyond the idyllic image of weaving in forests, by looking at how production and labour in contemporary life are made invisible? What are our own endless, overwhelming tasks that create desires of retreat and the risk of getting burned?
Songform as Time and Motion (Richard Youngs)
How best to come up with the cultural goods as quickly as possible? The artist and musician Richard Youngs, with fellow RADMIN song crafters and band members, create an unique musical performance that derives from melody creation procedures, standard times and techniques for overcoming the creative cul-de-sac of perceived perfectability. Drudgery will never have been such fun.
The Microplex DJ Work Force
A hybrid and social way of rocking and rolling with music styles and forms (CD, MP3, Vinyl and Tape) as various elements of the Cube team play songs and tracks from all kinds of sources...all night long.
Sat 16th 1100 – 2100
RADMIN Professional Development Bonanza!
AT: Cube Microplex, Bristol
Walks, talks and sales: a bountiful range of RADMIN events including a delegate Trade Show + Radio Show + Drawing Exchange + Art Sale + Raffle Draw.
Saturday's RADMIN is open to all kinds of collaborative reciprocations. What and how do we value? Artists and facilitators guide sessions in which monetary experiments, products/services and organisational portraiture take centre stage.
1200-1500 TRADE SHOW 03 (Centre for Plausible Economies and Feral Trade)
A host of RADMIN delegates showcase their wares.
'Trade Show' is a group exhibition where artists claim and reclaim trade as a cultural and political realm by producing their own shops, swaps, stalls, deals, value chains, exchange centres and distribution systems. In 'Trade Show' art and trade exist as universal activities deeply embedded in almost everything we do. 'Trade Show' started in 2013 as a collaborative effort to reclaim trade as a foremost cultural realm, where we set our relationships with others, including mother earth. www.trade-show.info
TRADE SHOW 03 at RADMIN features: The Bristol Art Library, Bristol Business School, Bureau of Portraits for Services, Gifts and Favours, Businesses Common Wallet, Company Drinks, Coverslut, Cube Cinema, Different Space, Display Distribute, Drawing Exchange + Cube Drawing Club,, Feral Trade, GENERAL PERFORMANCES, The Incidental Unit, Independents United, Keep it Complex, madeinroath, Minipogon, Plumbmaid, NO FANS, Rabbits Road Press Starter Culture, TOFU.

1230-1430 Radio/Teahouse (3 Stages of Succession)
The Radio/Teahouse is a social space, broadcast live on the Internet. We have some tea while snacking, dj'ing music, interviewing, improvising all sorts of criminalities and talking about issues that come up in our informal and accidental conversation.
1100-1330 This is What Adminstration Looks Like (Drawing Exchange and Cube Drawing Club)
A social drawing drift along Stokes Croft to observe daily life administration monuments; like the worn ATM, tattooed pillar box, and the admin drenched facades and spaces. Time to draw attention to the relics and the future possible of everyday admin. Ending at the Cube in a show of works for exchanging and bartering. All identified and unidentified drawers welcome. Dress warm, bring drawing tools.
1530-1630 Art Sale (Different Space)
Money as the last administrative taboo.This session invites you to witness a live process of selling and buying an artwork. We will slow the process down, bringing awareness and self-reflection to each step. We will consider new ways of thinking about money, emotion, value and exchange helping you develop your relationship to this everyday taboo.
1645 Business Experiment Raffle Draw

1800 100 Ushers (Cube Cinema)
Tonight everyone is an RADMIN Usher and everyone sees the film for free.
The Cube conducts a special Welcome Session in which the whole audience is trained to become a Cube Usher. A Cube Usher helps guide people to their seats, tears tickets, checks stamps, cleans up and responds to any event in the auditorium. This is open to everyone including current Cube Work Force, new volunteers and those interested in knowing a how the Cube ushers. Everyone then gets to see the film for free.

The Feature Film is *SORRY TO BOTHER YOU** (Directed: Boots Riley, 2018, USA, 112 mins, Cert: 15)*

The RADMIN feature film is the audacious, deliriously inventive debut from communist activist, musician-turned-filmmaker Boots Riley. Box Office Mojo labels it a 'Sci-Fi Comedy' and if that is the case it's one where the work force feels the power and joins the movement.

Film screens at 7PM.