Tickets: £5 per person, per film in various bubble sizes ...its simpler than it sounds (see link)
It is with great disappointment that we are having to CANCEL this weekend's series of films due to unforeseen circumstances.
If you have tickets for the event, please email laura.hillman@avonwildlifetrust.org.uk to let us know you have received the message and will not be attending the event.
We are currently exploring the possibility of alternative dates in the future. As soon as we know more we will be in touch regarding new dates for the event or refunds.
We thank you for your understanding.
---
Grow Wilder in collaboration with the Cube Microplex are delighted to be hosting a late Summer outdoor cinema in Bristol!
Lately, we've all missed watching a film on the big screen with our communities - let's face it… streaming things at home just isn't quite the same experience.
This is why we're so excited to be able to renew the cinematic world amid the beautiful surroundings of our human-inclusive nature reserve where people, wildlife and stories all thrive together. We've all heard about the benefits of spending time in wild and natural places. Now we can get clued up with the Cube's diverse programme of filmic facts and fantasies while we unwind in this regenerative setting.
Find us at...
Grow Wilder
181 Frenchay Park Road
Bristol
BS16 1HB
The films range from poetic documentaries to classic comedies so we're sure to have something for everyone. Tours of the site will also be available at 18:30.
We've got food too; vegan Mediterranean pasties with fresh salad grown onsite for a modest £5.50 will be available from 19:00 and there will be teas, coffees, Cube Cola Kefir from the Hedgeroe Apothecary and beer. There will also be cake.
FILMS
Final Straw: Food, Earth, Happiness (1hr 15mins)
Thursday 17th September - 19:30
Solutions for our most pressing social and ecological issues come from unexpected places on a meditative and artfully-executed journey through Japan, Korea, and the United States. Armed with a camera and determination, the film's directors turn our perceptions of food and life upside down in an amazingly simple and poetic way.
Cool Runnings (1hr 38mins)
Friday 18th September - 19:30
Four Jamaicans form their country's first ever bobsled team to compete in the upcoming 1988 Winter Olympics. They enlist the help of a disgraced former Olympic gold winner to reluctantly coach them. However, when they reach Canada they're treated as outsiders by the other teams, who fear they'll only succeed in embarrassing the sport.
Where else in cinema could you find such unwavering resilience against fatalism in the face of unprecedented climate change?
"Make no mistake, Cool Runnings is not the true story of the Jamaican Bobsled team. It is inspired by it, but this is not a documentary. Still, despite that, it does capture the spirit of the team and the derision they faced. In a fun and entertaining way, the filmmakers displayed the true lesson of the team: if you have a dream, go after it, no matter what anyone else says."
- grendelkhan on IMDb
Embrace of the Serpent (1hr 59mins) + Music from Malgrado Urbano (from 19:00)
Saturday 19th September - 20:00
Karamakate, a warrior shaman and last of his tribe, transcends the worlds of men and seeks truth through their dreams. He alone knows how to find the mysterious and psychedelic Yakruna plant; for some it has life-saving properties, for others it is a commodity waiting to be exploited. Two scientists, in two different times with very different agendas enlist Karamakate on their individual quests in an epic adventure into the heart of the Colombian Amazon to find this mythical plant.
This Oscar nominated film is seen through Karamakate's eyes and bears witness to the effects of colonialism, religion and the exploitation of rubber, that affect indigenous traditions and the environment to which they are inextricably linked.
Acts of Quiet Resistance (1hr 10mins) + Q&A with director Ian Nesbitt after the film
Sunday 20th September - 19:30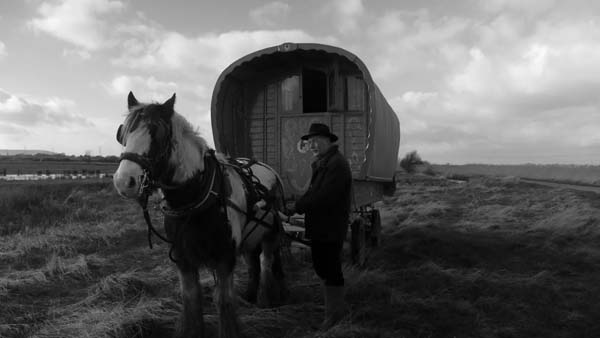 Michael lives and travels in a horsedrawn wagon. As the film begins, we find him preparing to cross the channel into France following a whim to swim his horse in the Mediterranean, then turning back six months later to buy a pair of boots at a horse fair in the Cotswolds. As Michael himself says, he spends his entire life travelling, without ever leaving home.
Filmmaker Ian Nesbitt spends a calendar year visiting him periodically on his version of pilgrimage. The result is a sparing road movie tracing Michael's transient and timeless existence on the peripheries of modern life.
Acts Of Quiet Resistance is a documentary steeped in the slow cinema tradition. Five years in the making, it continues a thread in Ian's work of collaboratively made films, blurring the line between subject and filmmaker.
---
Doors open at 19:00 18:00 each night.