70 Takes, One Feature Film
The Film That Buys the Cinema, a piece of Microplex history in the making.
The Cinema is the Cube Microplex in Bristol, UK. 70 artists have donated 70 one-minute takes, to be sequenced together into a single feature Film. You can purchase packages including DVDs and limited edition art works, all proceeds go direct to the Freehold campaign, set up in order to secure the Cube building as an arts space, in perpetuity.
THE WORLD PREMIERE After two years of plotting, planning and production, The Film That Buys the Cinema is now a fully-fledged finalised phenomenon! We are happy to announce that the FTBTC was selected for the BFI's London Film Festival, which hosted its world premiere on October 14th 2014. More screenings listed here.
Watch the Film that Buys the Cinema trailer here.
BUY THEM NOW. There are still (some very) limited edition art packages, including a DVD version of the film, which will contain extras not seen on the cinematic release,
HERE
. All proceeds going towards a great cause: upgrading the Cube.
The Buying In December 2013 after a 15 month public campaign, the Cube Cinema unforgettably raised the Landlord's asking price (£185,000) for the building, following a crazy flurry of activity where hundreds of people donated money or bought FTBTC packages. On April Fools Day 2014 the building passed officially into our hands. All continuing sales of FTBC packages will go to cover pressing structural work on the building, to ensure and enrich its future.
The Scenario
The FTBTC is a 70-minute film comprised of one-minute takes, each one shot by contributors who have passed through the Cube and are special to us: filmmakers, musicians, poets, amateurs, wrestlers, radicals and activist groups. From the wilfully obscure to the cult, the pop spectrum to the outer limits, from scientists to skaters, a series of bumper-to-bumper takes on life's rich pageant.
Each minute has been sequenced together into a labyrinthine journey of light and sound capturing the essence of our deeply loved, independent social cinema; an artistic time capsule and an extraordinary rendition of what the Cube is all about.
Once complete, the film will enjoy international exhibition and continue fundraising for the Cube. All moneys raised by this project go direct to Microplex Holdings Bristol Ltd, a non-profit Industrial and Provident Society (registered number 31262R) with charitable status. Microplex Holdings was formed by Cube volunteers as a Community Land Trust, with the express purpose to secure the Cube land and building in the service of the arts in perpetuity.
Contributing Artists
Jennifer Abbott
,
Bluescreen (Artist: Imogen Pettitt)
,
Craig Baldwin
,
Beardyman
,
David Blandy
,
Bristol Radical Film Festival
,
Dagger Brothers
,
Jem Cohen
,
Mark Cousins
,
Easton Cowboys
,
Steven Eastwood
,
Efterklang
,
Ekoplekz
,
Eric Chenaux & Eric Cazdyn
,
Fat Paul
,
Amy Feneck
,
Doug Fishbone
,
Josephine Foster + Gyda Valtysdottir
,
Hannah Godfrey
,
Goodiepal
,
Ciro Guerra
,
Liz Harris
,
Emma Hedditch
,
Stewart Home
,
Jandek
,
Ju Suk Reet Meate And Oblivia From Smegma
,
Katie + Kims Kitchen
,
Paul Kelly
,
Braden King
,
Leyland Kirby
,
Andrew Kotting
,
Anna Lucas
,
Alex MacKenzie
,
Joe Magee
,
Andrew Mania
,
Hisham Mayet
,
Cory McAbee
,
Hugh Metcalfe
,
Mike 'Tidy' Pearson
,
John Minton
,
Mississippi Records, Vanessa Renwick & Michael Hurley
,
Maria Mochnacz
,
Bill Morrison
,
Nanoplex
,
Chris Petit
,
Rozi Plain & Francois
,
Tim Plester
,
Portishead
,
Project Dark
,
ICHI & Rachael Dadd
,
Ben Rivers
,
Eugene Robinson
,
Nicolas Roeg
,
Semiconductor
,
Rasha Shaheen
,
Coral Short
,
Louise Short
,
Ben Slater
,
Michael Smith + Tom Stubbs
,
Jack Stevenson
,
Peter Strickland
,
Dudley Sutton
,
Jennet Thomas With Leo Chadburn
,
Thought Forms
,
Tony Grisoni & Oona Grimes
,
S Warwick
,
Reggie Watts
,
Joff Winterhart
,
Richard Youngs
,
Andrea Luka Zimmerman
The Cube Cinema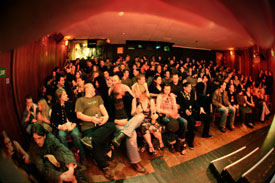 The Cube Cinema has been playing with film, culture and form for 15 years. Back in 1998 the Cube was set up with the crazy (but catchy and invigorating) notion that it would earn enough ticket money so that the film makers, who ran the place, could invest it in their own films.
However just to keep the historic art space open was challenge enough: money and audience were hard to come by at first. The workers went volunteer, the programme became free range (Radical History film groups next to international blockbusters, improv electronics beside community orchestras) and this is the way the cinema carried on.
The Cube has always been proudly independent. With ownership, the sum of the hard work carried out by its all-volunteer staff will be directly invested in the building, equipment, programming, creative projects and education for our staff, enriching the experience of everyone who passes through the doors.
The Producers
This Film is produced by:
Lucy Mitchell, Mark Slater, Laura Leigh Kingston, Charlie Phillips, Lucy Dawkins, Wendy Harris, Steve Henwood, Nathalie Crowley, James Spender Thompson, Gavin Spittlehouse, Jonas Rademacker, Simon Rees, Lynne Knight, Ramon Trecu, Gavin Lucas, Mark Leaver, Daniel Scoins, Rachael Robinson, Alan Smithee, Sanjay DeSouza, Paul Wilde, Martha Kelly, Bob Woods, Alex Milton, Mark Thompson, Terri Davey, Mark Locke, Freya McLuckie, Neil Pedwell, Matt Taylor, Clive Henry, Benjamin Dowden, Jode Mayhew, Paul Cooke, Jos Steinmann, Clement Conti, Heather Watts, James Stokes, Tom Lindsay, Clare Kenny, Lucy Clarke, Conor Wilson, Terry Game, Sophie Mellor, Nicky Cornwell, Guy Denning, Nicola Strange, Steve Comer, Bill Campbell, Maurice Carlin, Mark Bould, Philippe Delvosalle, Iwona Barszczewska, Inflexion Point, Kathy Hinde, Luke Youngman, Karen Dawe, Sue Palmer, David Fern, Shanon Fontaine, Karen Di Franco, Macfarlane Family, Eva Manning-Davies, Kassra Hamed, Emilie Joy Rowell, Sarah Salter, Mike Karthauser, W.A.R.M, Geoff Woodward, Shawn Robb, Mike Gifford, Wes White, Simone Osborn, John Parish, Leila Gamaz, Sam Norgate, Sarah Tulloch, Ben Slater, Sara-Elaine Giardina, Diana Taylor, Guttural Olympiad Legacy Project, Ali Sparror, Sarah Hughes, Shannon Smith, Peter O'Brien & Hannah Crosson.
,,,,,,,,,,,,,,,,,,,,,,,,,,,,,,,,,,,,,,,,,,,,,,,,,,,,,,,,,,,,,,,,,,,,,,,,,,,,,,,,,,,,,,,,, .